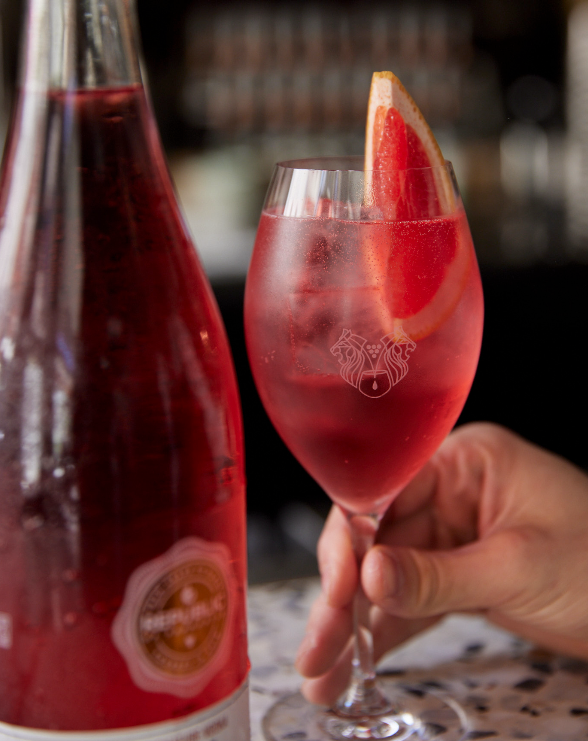 A light, bright spritz, Republic of Fremantle Signature Vodka
meets blueberry, lavender and double lemon to create a super and refreshing cocktail.
INGREDIENTS
30ml Blueberry Vodka (see recipe below) 
10ml Aperol
20ml Lillet blanc (you can substitute for prosecco)
20ml Citrus cordial
120ml Soda
FIRST MAKE BLUEBERRY VODKA
Add 100g of frozen blueberries and 1 bottle of Republic of Fremantle Signature Vodka and let infuse for 24hrs in a sealable jar at room temperature. 
Strain through a fine filter and rebottle your Blueberry Vodka, store refrigerated. 
METHOD
Add ingredients in a wine glass, gently topping with soda.
Add good quality ice and garnish with a grapefruit wedge, or citrus of choice
Enjoy!
HOW TO MAKE CITRUS CORDIAL
Ingredients: 500g of your choice of citrus (grapefruit, lime, lemon or orange), 250g caster sugar and citric acid 

Method
Using a citrus peeler, peel your citrus, keeping the peeled fruit to one side
Add caster sugar and the citrus peels to a container, then shake for 10 seconds. Leave at room temperature for 4 – 24 hours, the sugar will leech the oils from the peels and begin to appear wet. 
Once the peels have been left for an adequate time, juice the fruit using a citrus press, then pass the juice through a strainer into a container.
Add peels and sugar into the container, then stir to dissolve the sugar into the juice. If you have trouble dissolving the sugar in the juice, add a small amount of water.
Once sugar is dissolved, pass through a strainer. Add ¼ of teaspoon at a time of citric acid, mixing well, until desired acidity is reached, continuing to taste after each teaspoon. 
 If cordial is too thick add a small amount of water to thin it out. You can store your citrus cordial in the fridge.