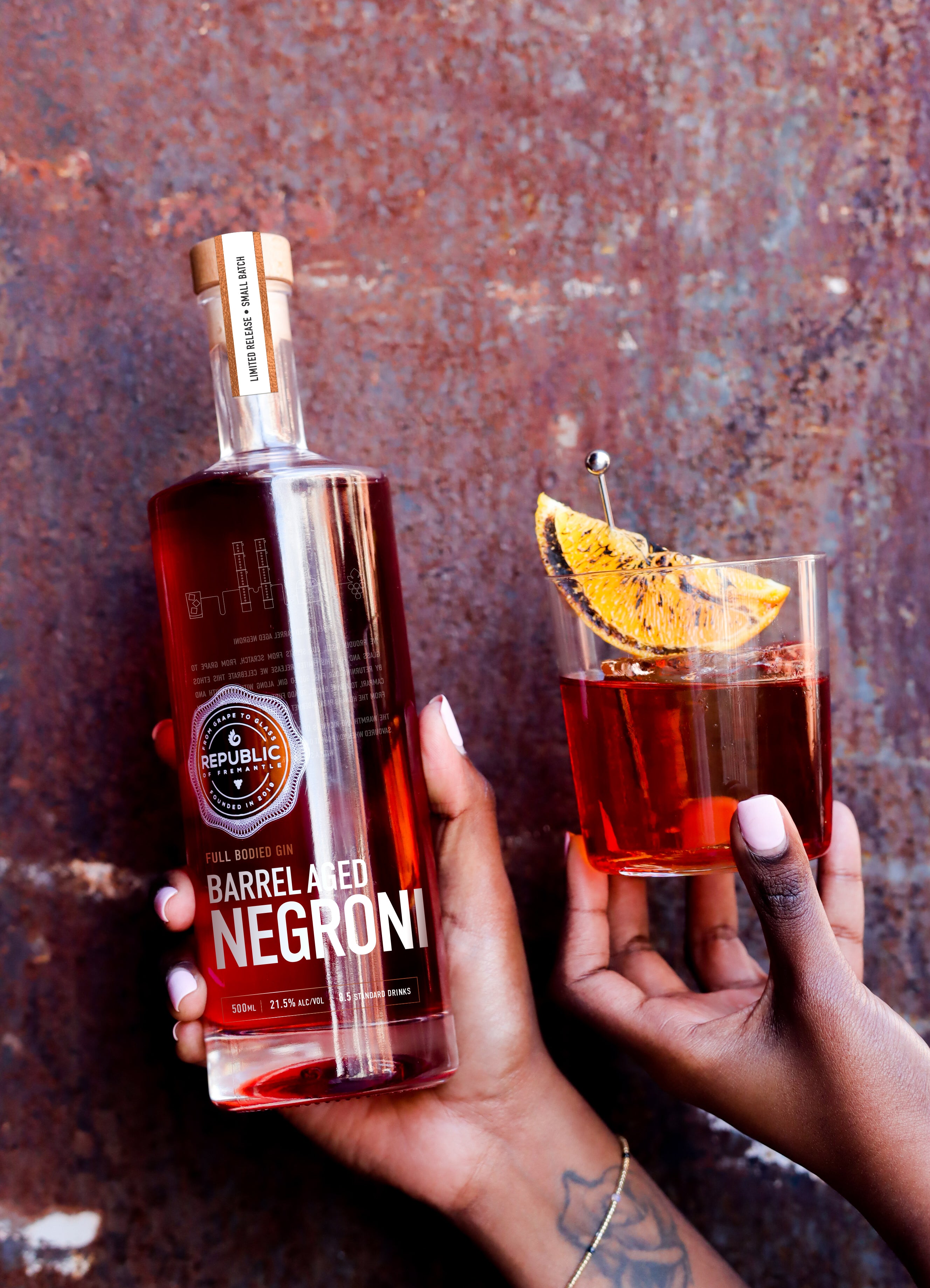 Barrel Aged Negroni, The Republic Process
At Republic of Fremantle, we're all fans of our Negroni Classico... the Negroni Bianco… and now we're adding our Limited Release Barrel Aged Negroni to the list. 
Barrel ageing spirits is a time-honoured practice, but utilising this technique for cocktails is a relatively recent innovation.
It's an approach that keeps the true character of the ingredients intact whilst adding nuance and greater complexity to the finished product. 
Today, in craft distilling and the world of bartending, barrel ageing is another technique for distillers and cocktail makers to create unconventional cocktails and flavour profiles out of the ordinary.
THE MAKING OF OUR LIMITED RELEASE BARREL AGED NEGRONI 
The first step in making our Barrel Aged Negroni  is sourcing the best ingredients.
We start with our award-winning Full Bodied Gin, paired with Campari and our house blend of sweet vermouths.
A generous pinch of sea salt is added to help round out the cocktail. Once combined, we pour the concoction into an old red wine barrel, kindly gifted to us from Howard Park Wines. 
For over 30 years Howard Park Wines has been one of Western Australia's pioneering family-owned wineries, specialising in WA's notable grape-growing regions of Margaret River & the Great Southern. The barrel was formerly used to age Cabernet Sauvignon and Shiraz red wine.
The final ingredient is time.
The negroni will interact with the wood over several weeks, soaking up the character of both the barrel and the wine that it once contained.
This process gives the negroni time to mellow, the wood removing any harsher flavours that may be present, whilst also imbuing the flavour of the wine into the cocktail, bringing greater richness on the palate, and a more luxurious texture.
Our Limited Release Barrel Aged Negroni is a textural ready-to-pour cocktail, full of warmth and perfect for winter sipping. Enjoy.
If you haven't pre-ordered your bottle, scroll down to sign up to the Republic of Fremantle, then click here to shop while stocks last.