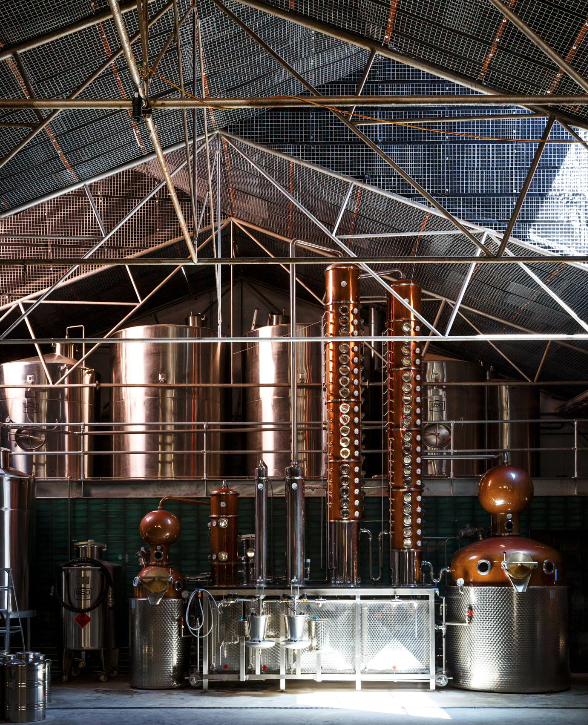 Two Wins at The WA Architecture Awards 2023
On the weekend we received some exciting news from the 2023 WA Architecture Awards.
Our Fremantle Distillery designed by spaceagency architects won the Mondoluce Lighting Award and a commendation for the Commercial Architecture category.
A massive congratulations to our very good friends and neighbours at spaceagency, the creatives behind our venue design.
These awards are a little different to our usual spirit competition announcements in that they recognise the innovative work of Western Australian architects, but we're incredibly proud to see our venue's designer acknowledged for their great design. 
We first began talks with our Fremantle-based architects in 2018 to help us build a home for our Distillery on Pakenham Street. The vision was clear from the get go, to create a place where locals and visitors could immerse themselves in a world of craft distilling surrounded by passionate makers.
Every nook and cranny of the venue's design was meticulously considered by spaceagency, resulting in a breathtaking Distillery and hospitality venue capable of seating up to 300 guests. From the Mezzanine level, offering a unique vantage point, to the hand-crafted light fixtures and captivating textures, our industrial working Distillery is more than just a physical space—it's an invitation for people to discover the essence of the Republic of Fremantle, from the spirits to the food.
If you're looking for a spot for pre-dinner drinks or a casual tipple, the front cocktail bar has been designed with moody interiors serving luxurious snacks for just that. Foodies who are looking for a full dining experience can visit our new Distillery Restaurant space, where you'll be seated in front of our incredible Müller still.

But wait, there's more! Ascend the stairs, and you'll find yourself on the Mezzanine level—a private open-air space that overlooks our custom-built copper stills on the ground floor. This is where we host our Gin School and Distillery Tour & Taste experiences every weekend, allowing you to delve deeper into the secrets and craftsmanship behind our grape-to-glass distilling process.
The past couple of years have been a whirlwind at the Republic of Fremantle. Bringing our vision to life has been no small feat, and we're grateful for every moment of it. 
We raise a toast to our remarkable architects for their outstanding achievement this week. And, of course, we extend our heartfelt gratitude to each and every one of you who has journeyed to Republic of Fremantle to visit us. Your continued support and enthusiasm inspire us to push boundaries and create extraordinary experiences for all who walk through our doors.
With much appreciation,
Matt, Jason, John, and the entire Republic of Fremantle team