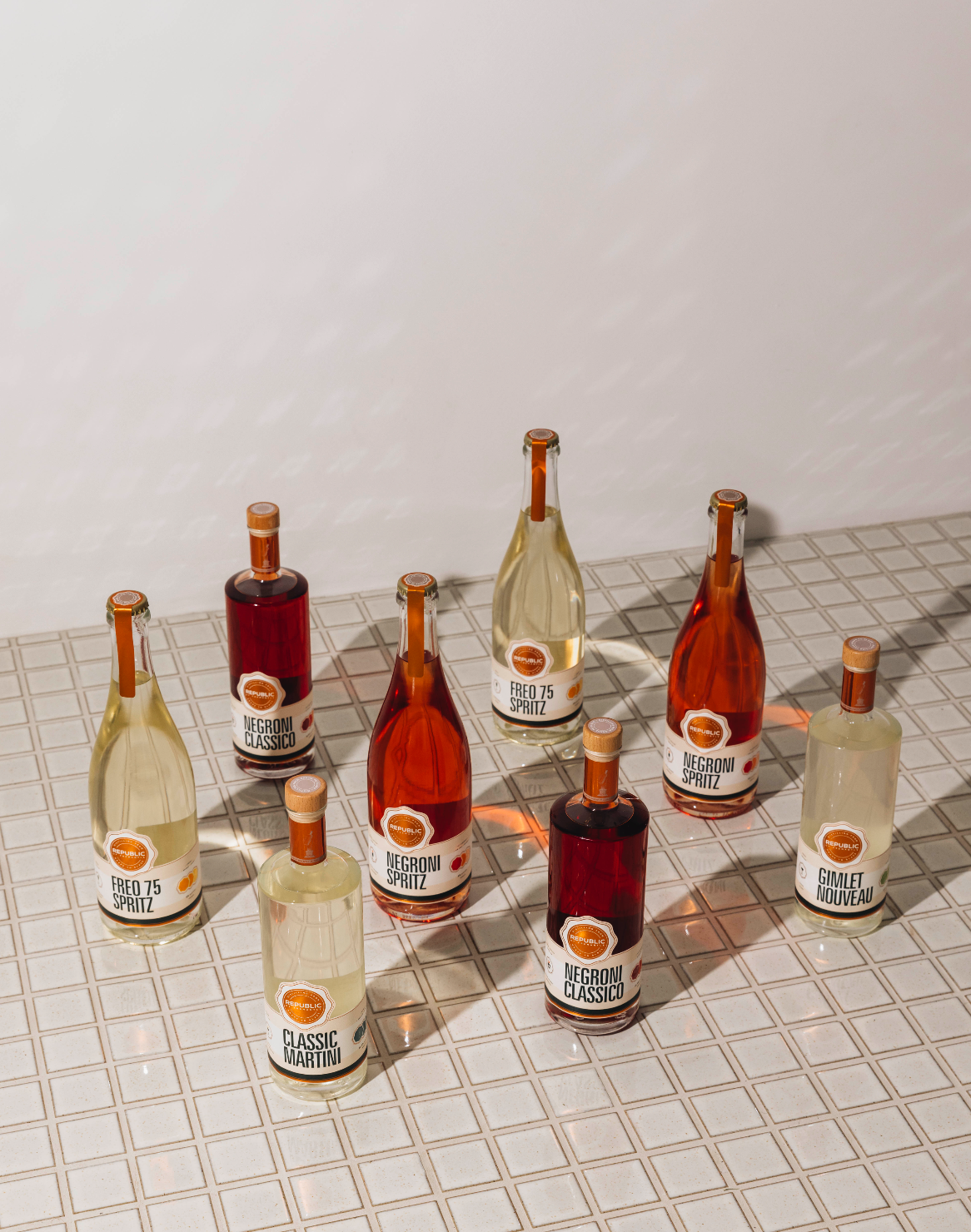 Republic of Fremantle Launch Three New Bottled Cocktails
The season of summer entertaining is upon us and we're so excited to announce we're launching three new ready-to-pour, premium bottled cocktails into the market.
The full line-up of bottled cocktails will turn your home into a world-class drinking spot, where you can serve up sophisticated Spritzes, Martinis or Negronis in a matter of seconds.
Drinks Creative, Max Giudice originally developed the bottled cocktails to serve in our Distillery Bar and Restaurant. However, since opening the venue three years ago the cocktails have built a cult following, to date more than 8,000 Negroni Classico cocktails and 5,000 Gimlet's have been expertly poured and enjoyed in the Republic of Fremantle Distillery.
After receiving repeated customer requests to purchase the large-format bottled cocktails to take-away, the team are thrilled to expand the range.
The full collection now includes Negroni Spritz, Negroni Classico, Gimlet Nouveau, Classic Martini, and their Freo 75 Spritz—a delightful twist on the classic French 75 cocktail. 
Pictured above, the 750ml Negroni Spritz Bottled Cocktail, served over ice and a wedge of orange for garnish.
Giudice says the Negroni Spritz is a lighter, more refreshing take on a classic Negroni. You can expect all the hallmarks of a bitter-sweet Negroni but with a few unexpected flavours landing on the taste buds.
"The serve is infused with fig leaves, this unique addition gives notes of coconut, vanilla, and fresh fig. Plus, we make a charred grapefruit and orange cordial to beautifully balance the serve."
We initially designed the bottled cocktail program to allow for more creativity and technique in the development of the recipes, as well as speed of cocktail service in our busy bar.
"We never planned to sell our bottled cocktails outside the Distillery. And we definitely didn't expect demand in the ready-to-drink category to sky rocket in the way that it has in the past few years."
"It's clear there's a real demand from people who enjoy an elevated cocktail experience; both in the bar and at home. There's nothing better than being able to take a bottle of cocktail anywhere, any time, and share it with your friends!"
Our biggest challenge when venturing into the world of bottled cocktails: maintaining exceptional quality and ensuring freshness of flavour akin to freshly shaken and stirred cocktails, pours out of the bottle every time.
The new range of sipping and spritz bottled cocktails is a triumph of a marriage between the Bar & Distillery at Republic of Fremantle.
Spearheaded by the creative drinks visionary, Max Giudice, the bar team has masterfully designed cocktail recipes in collaboration with Republic's Head Distiller, Tom Hutchings.
Together, they've pioneered innovative techniques to extract the full spectrum of flavours from fresh, natural ingredients, guaranteeing the preservation of their vibrancy over time.
Pull out your best glassware and stock up for the summer season ahead. The full range is available directly from the source at the Republic of Fremantle Distillery on Pakenahm Street in the West of End of Fremantle, our online retail store, as well as a range of good bottleshop, bars and restaurants in WA.
Happy sipping!