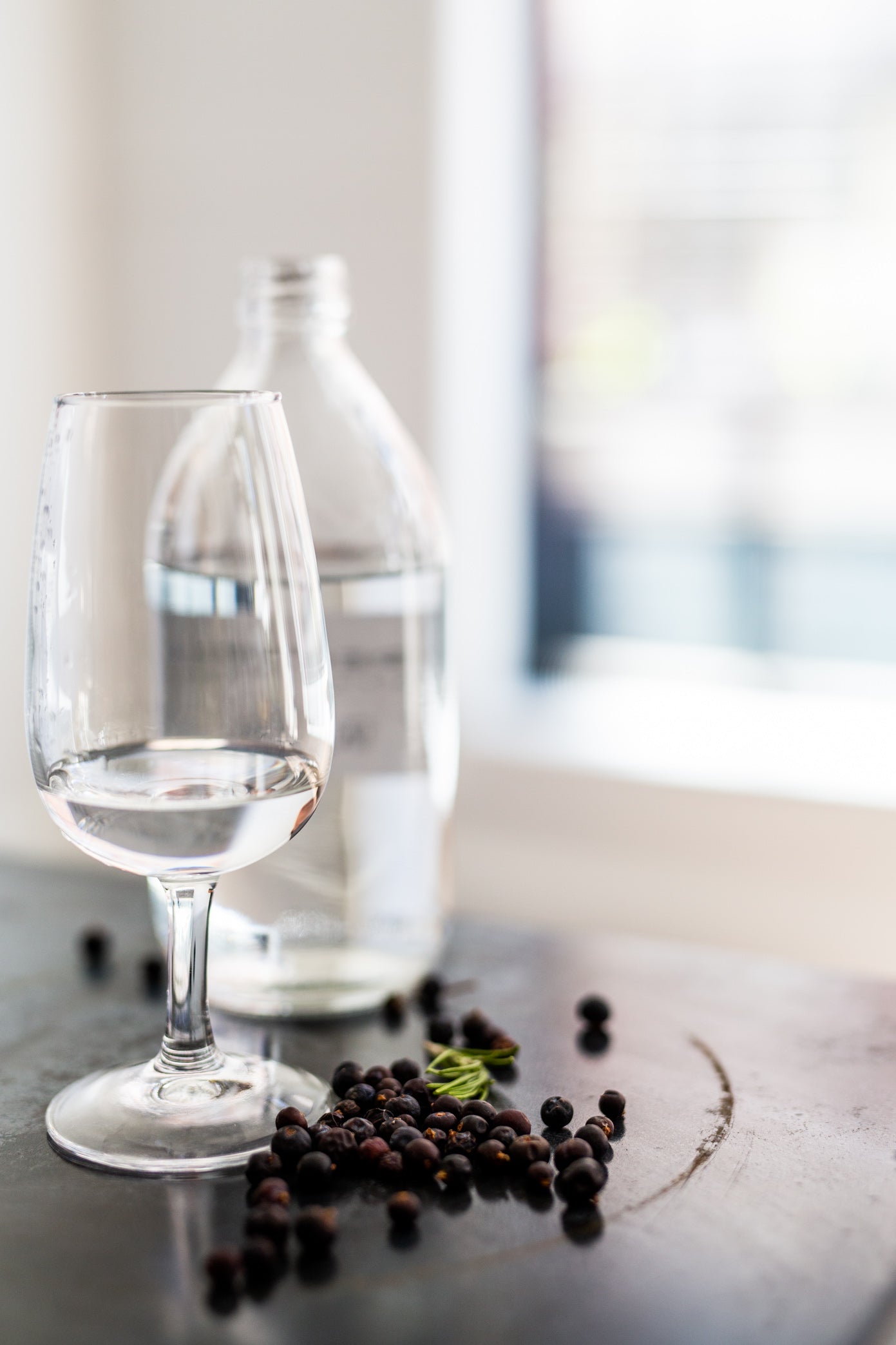 Distilling our base spirit from scratch
A question that more and more spirit enthusiasts are asking... 
Do you make your own base spirit?'
Firstly, let us explain what base spirit is, and why this question is being asked more often. For most distillers base spirit is the distilled neutral spirit they buy in to then redistil into vodka or gin, a blank canvas if you will.
The majority of industrial base spirit is made from grain, however base spirit can be distilled from a range of natural crops such as grapes, potatoes or even quinoa. Each raw ingredient uniquely influences the flavour profile and texture of the base spirit – so not necessarily a 'blank canvas'.
And those spirit enthusiasts are starting to consider more than the botanical bill of their gins, but also what flavours and textures can be gained from the raw ingredient used to make the base spirit.
Currently less than 1% of gin distilleries in the world distil their spirits from scratch, why? Because making your own base spirit is a labour of love, it takes great skill and can be time consuming and expensive to achieve.
Here at the Republic, we believe in celebrating the true craft of distilling from scratch
We choose the unconventional and innovative grape to glass distilling method where we locally source Verdelho wine from 100-year-old vines in the Swan Valley, and distil it into a pure and crisp base spirit that is textural yet silky-smooth and intentionally retains a slight hint of honeydew melon and citrus from the Verdelho wine – a "vibrant canvas."
"Crafting our spirits is a true labour of love. We value master craftsmanship and believe in distilling there is no greater challenge than making your own base spirit from scratch.
Master Distiller Oliver Kitson
Making our base spirit from grapes
The journey of creating our base spirit began in 2019 when our Master Distiller Oliver Kitson first started to explore and experiment with different wine varieties in search of the perfect grape to create Republic's unique spirits. 
From trying Riesling, Chenin and Chardonnay to name a few, Oliver found that in particular Verdelho grapes with their delicate citrus and tropical characters growing from 100-year-old vines in the Swan Valley were to be "the one."
The subtle characters the grapes take from the sun and the soil gives life to our base spirit that is clean, crisp and rich in flavour.
A wine variety that was said to be going out of fashion would now become the distinct fruit base to craft Republic of Fremantle's base spirit.
"By creating our own base, we are then able to produce spirits that are silky-smooth, filled with individuality, complexity and most importantly - flavour."
Master Distiller Oliver Kitson
Working with local winemakers
We work closely with local Swan Valley winemakers to ensure our Verdelho is grown with the perfect balance of flavour and natural sugars, to grow the ideal grape for our pure base spirit.
Once the juice is pressed from the grapes and fermented, it's ready for Republic of Fremantle's grape-to-glass distillation, a process requiring a steady hand and unwavering attention to detail.
Using Verdelho in our small batch artisan process assists us in creating a base spirit with a luxurious texture that showcase the citrus flavours of the grapes.