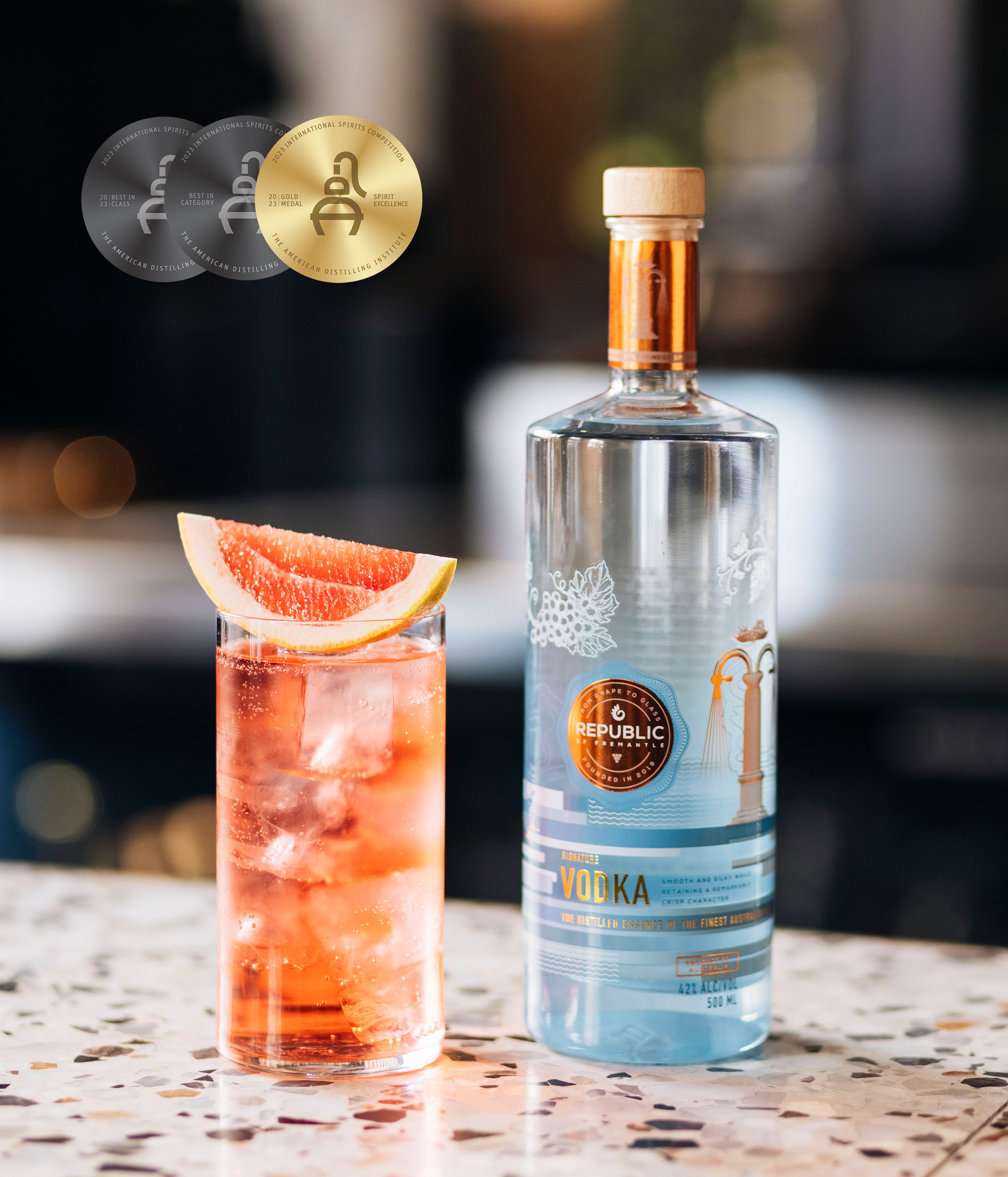 Signature Vodka Win at the 2023 American Distilling Institute International Spirits Competition
BIG NEWS FROM THE US! Get ready to raise your glass with us. 
Our Signature Vodka has just been crowned the Best Vodka in The World
We're extremely proud to announce our Signature Vodka's triumph at the world's most prestigious craft spirits awards, the 2023 American Distilling Institute International Spirits Competition.
Today - May 18 2023, the world-renowned American Distillers Institute (ADI) Awards announced Republic of Fremantle Signature Vodka as the award winner for Best in Class in the International Vodka category – meaning the very best vodka in the world… 
The Signature Vodka has well and truly shined on a global stage, bringing home:
Best of Class - Distilled Spirit - International Vodka
Best of Category - Distilled Spirit - International Vodka - Residual Base Character
Gold Medal
A few years ago, we set out on a journey to challenge the status quo when it comes to crafting spirits. We chose to transform locally grown Verdelho grapes into our own grape base spirit as the starting point. During our innovative grape to glass distilling process, we intentionally retain crisp honeydew melon and citrus flavour from the grapes to create our silky-smooth products. The vodka and gins have garnered worldwide attention – and have now earnt a major award at the ADI International Spirits Competition!
This week's win is a testament to our Head Distiller, Tom Hutchings and his incredible work at the Distillery, distilling the silkiest, smoothest, most textural spirits with our own grape base.
"Making vodka from wine is challenging and further developing our process has significantly improved my skills as a distiller, to have this recognised in this international competition is hugely rewarding and the feedback is a testament to the complexities you get using wine as the base."
Head Distiller Tom Hutchings
To celebrate the big international win, we're offering Citizens and locals one (1) complimentary Mini Vodka Martini in the Distillery Bar and Restaurant on Friday, 19th May 2022 from 5pm – 7pm – 3 Pakenham St, Fremantle WA.
Well done team!